Melbourne, FL -Dorothy Ann (Noyes) Woughter, 82, passed away peacefully on November 16th 2023 at William Childs Hospice House in Palm Bay, FL surrounded by family and friends.
Born in Millinocket, Maine October 2nd, 1941, she was the daughter of Paul and Rama (Moscone) Noyes. She attended Stearns High School where she was a cheerleader, in the band and also May Queen. She attended Saint Mary's Hospital and became a Lab Technician and was truly passionate about her career until her Multiple Sclerosis diagnosis when she was 29 years old.
Dorothy and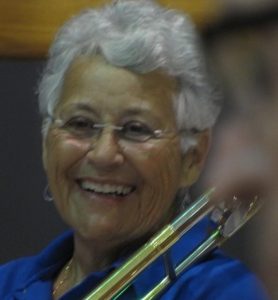 her husband, Carl, owned and operated The Thirsty Whale in Newburyport, MA for 28 years. They also enjoyed their time spent living aboard their sailboat while traveling up and down the Intercoastal Waterway for 18 months with their two young daughters. Dorothy loved music and played the trombone. She picked it back up after 47 years and played in bands in both Florida and New Hampshire. She also enjoyed social activities like bridge and bingo. Dorothy was a proud patriot and always had her American flag flying. Dorothy loved spending time with her grandchildren and great-grandchildren.
Dorothy was predeceased by her husband, Carl H. Woughter whom she shared 58 years of marriage, and her brother, James Noyes of St. Petersburg FL.
Dorothy is survived by her sisters, Pauline Foley of Somerville, MA and Elizabeth Griffin and her husband Thomas of Yarmouth, ME, her daughters, Elizabeth Arthurs and her husband James of
Amesbury MA and Kelly Woughter-Nesius of Melbourne FL, her granddaughters Carissa Candage and her husband Anthony of Pittsburg NH, and Margaret Tassinari and her husband Michael of Peabody MA, and her great grandchildren, Anthony Lampedecchio, Harlow Tassinari and Fiona Tassinari as well as many nieces and nephews.
In lieu of a service, donations can be made to her favorite charity The Veterans or by donating to your favorite charity, as Dorothy would have.