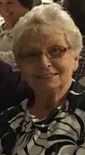 Carol Jean Walker (98) of Palm Bay, Florida previously of Memphis, Mo.
Passed away August 29.  She was the daughter of Merritt A. Ferris and Hettie M. Ferris, she was born June 18, 1925.
She was married to Clifford Brumback.  They had 5 children.  Later she Married Joe Tom Walker.
She worked several jobs over the years.  A few were Keith's Cafe, IGA grocery, JC Penney's, Coast to Coast, and Cook's Clothing.  She was a member VFW Post 4958 Ladies Auxiliary, Presbyterian Church.
She was proceeded in death by her parents, husband Joe T. Walker, brother's:
Donald L. Ferris, Wendell Ferris,  William David (Bill) Ferris, James Ferris.
Sisters:  Eunice Ferris Carroll and Beverly Ann Ferris.  Son: William David (Bill) Brumback, Grandson William David Curry.  Brother-in-law: Keith Carroll and
Sister-in-law's:  Coralee Ferris and Mary Sue Ferris.
Surviving relatives include 4 Children:  Donald (Mary) Brumback of Ragley, La., Reta (Ronnie) Sourwine of Malabar, Fl., Beverley (Dennis) Schmidt of DeWitt, Ia., Margaret (Jim) Curry of Memphis, Mo. nine grandsons, Nineteen great grandchildren, And Six great-great grandchildren.  Along with several nieces and nephews.
Memorials are suggested to the Alzheimer's Foundation may be left at or Mailed to Payne's Funeral Chapel 202 E. Madison St., Memphis, Mo. 63555.
Online condolences may be sent to the family by logging onto Payne's website
at:  www.paynefuneralchapel.com.
Sent from my iPad